Back to Gamma World

Here are a few of the little irritants I like to throw into my games. Since some of these have been around for awhile, not all of them have been converted to my new system , so expect to see some 1st and 2nd Edition stuff in here.


---
Guardoons
Grassland Raiders
The Rakeen
Spider-Man
RAFABOLEBO
Garrr
Rakeen Character
Captain America
All Brains
Hard to Find
Unstoppable
Human Snake
---
Back to top
GUARDOONS
AC:7
HP:39
STR:16
INT: 8
WIS: 7
DEX:15
CON: 9
CHR: 3
Mutations:
TELEPORTATION
FORCE FIELD (25 pts)
MENTAL INVISIBILITY

PUNCH: 1d4
BITE: 1d8
TACKLE: 1d2 + AUTOMATIC BITE

These Mutated Baboons are a direct off-shoot of my favorite dead Character, Neil . They are a basically cowardly sort, fighting only when they have an obvious advantage. If they are losing, or think they will lose, in a battle, they will teleport as far away as possible to re-group or run away (a-la Monty Python's Holy Grail).

---
Back to top
Grassland Raiders

Base Move 3
Fast Move 6
Run 12
Sprint 21
HP:
Hit:
Defense:
HT: 5' 3" average
STR: 12
Hand 12
Hand 12
WT: 180 lbs average
INT: 13
Aimed 12
Dodge 13
Eyes: Brown
WILL: 14
Mental 11
Mental 11
Hair: Black
DEX: 16
CON: 17
Mutations:
Phasing (Special)
Chameleon Powers

I adapted these from one of my favorite books, "The Stone and The Flute" by Hans Bemmann.
These descendants of Chinese-Americans have adapted to a life of hiding and ambushing. Virtually anyone who enters their "territory", plains of 4' to 6' tall grass, has a 60% chance of being attacked by 5-10 Raiders. They will seldom kill an opponent, but have been known to kidnap small children to use a slaves. Slaves don't usually live very long in the Raider's camps.
The Raiders ride a short breed of Brutorz that they have developed through selective breeding. The horses have all the same characteristics of normal Brutorz, with the exception of STR, which is 17.
The Raiders suffer no terrain penalty on movement when in grassy or forest terrains due to their unique ability to phase not only themselves, but their Brutorz as well. This Phase Mutation can only be used for phasing through living plant material.
Raiders will use their short stature and their Chameleon Powers to hide and surprise victims.
Raiders will steal everything from a fallen victim, and cannot be bribed into passivity.
They have been known to go out as youngsters so as to travel the world and become familiar with other peoples, but will always return after one year.
When overpowered in a fight, they will run away as fast as possible. They will return with 20 more Raiders within one hour.
They will never pursue victims outside of the confines of the grasslands.
---
Back to top
THE RAKEEN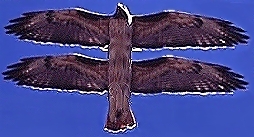 These were created as a tribute to my favorite Character of all time, Rakeen, a mutated Red-tailed Hawk. He is very lethal. He appears later in the page.
The Rakeen are a race of predatory birds descended from Red-tailed Hawks.
The average Rakeen is 1.04 m. (40 in.) long with a 2.08 m. (80 in.) wing spread.
They have elongated bodies to accommodate a second set of wings. These wings give hovering ability and omni-directional flight. All four wings must be used to fly. Their legs and feet are larger to provide balance. Coloring can vary from black to rust/orange. Chest and underparts will almost always be white. Rarely, about one out of every 50,000 surviving hatchlings, there will be an albino. These will be taken to be raised by the Priests, as they are considered seers. Albino Rakeen will have very poor eyesight, but will have the Mutations Clairvoyance and Clairaudience in addition to racial norms.
The Priests of Ahkree rule this theocracy firmly.
Pairings are approved by the Priests based on;
The need for young in the Flock.
The desire of the two for the Pairing.
The closeness of relation, if any (inbreeding at the 3rd or 4th removal is allowed, but 5th removal and beyond are preferred).
Pairings are for life.
A Flock is a group of Rakeen of 20 or more, with the average size being 120. There will be two Priests for every 100 individuals.
Fledglings are community raised until the age of six months. Pairing is allowed at one year.
When a Flock gets below 20 in number (due to famine, predators, etc.) it joins with another small Flock. The Flocks merge with no superiority conflicts. When a Flock reaches about 150, 50 unattached young, 25 of each sex, are chosen by the Priests. These accompany two Priests in founding a new Flock. This is a great honor, and the competition is fierce.
While the exact method of selection is not known, near perfect plumage and suberbly honed hunting skills seem to be the common denominators in the new Flock.
The new Flock will relocate approximately 320 linear kilometers (200 mi.) away from the parent Flock. Hunting Flocks have been known to take down 900 kg. (2,000 lb.) animals. The Flock will remain in the vicinity for as long as the carcass is edible. First to eat on each kill will be the Priests. Rakeen are very intelligent and can learn most spoken languages. They have no written language, but can learn to read. There only weapons are their claws and beaks. Rakeen have a tremendous respect for ANY priest. They will not attack a priest, even in self-defense. Any hatchling with obvious Physical Mutations will be killed. As a result, Mental Mutations are very prevalent.

---
Back to top
I was playing with my new system and came up with the following Characters:

---
SPIDERMAN

STR:16
WILL:12
INT:13
DEX:15
CHR:11
CON:13
MUTATIONS:
INCREASED SPEED x4 (1pt.)
ATTRACTION FIELD (2pt.)
INCREASED BALANCE (1pt.)
INCREASED STR. (1pt.)
INCREASED DEX. (1pt.)
NEW BODY PARTS - SEE BELOW (1pt.)
Character has one Mutation point left to spend.
The NEW BODY PART is a web spinner in each forearm. The spinnerettes will produce a maximum amount of material for 100 yards of webline before needing to "rest" and replenish itself.
The muscles in the arm are designed to shoot a webline a max of 35 feet.
The webline in the spinnerette regenerates at a rate of 5 yards per hour.
Only a line of webbing can be fired.
The webbing is liquid until it comes into contact with the air. It then becomes a semi-solid. It has an expansion ratio of 6:1, that is, every inch can stretch to six inches. It has a very high tensile strength. Each inch can hold up to 300 pounds, but 100 pounds will stretch one inch to its maximum.
The webbing also has a high adhesive bonding ability. A webline will hold up to 5000 pounds from a single adhesion point. The adhesive is only active on the leading edge of the line.
The webbing is stored in an elongated bladder within the arm. A series of muscles contract on command to squeeze the bladder to eject the material. A sphincter muscle near the wrist on the palm side of the arm then opens fractionally to allow a high pressure, pencil thin stream emerge. When the stream is stopped, the sphincter contracts, holding the webline firm. The sphincter is also the means by which the webline is cut.

---
Back to top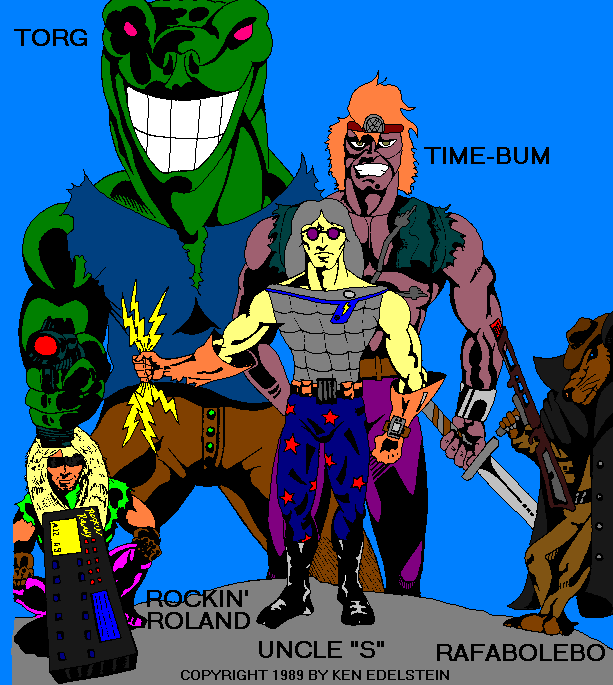 RAFABOLEBO is a nickname that my best friend has acquired. It is an acronym: RA t FA ced BO w LE gged BO y.
RAFABOLEBO - SQUEEKER PLAYER CHARACTER

| | | | | | |
| --- | --- | --- | --- | --- | --- |
| STR: 14 | WILL: 12 | INT: 12 | DEX: 16 | CON: 14 | CHR: 10 |
| HP: 65 | HT: 4 ' | WT: 90 lbs. | HAIR: GRAY | EYES: RED | |
| AGE: 22 | HAND: LEFT | BASE SPEED: 6 | | | |
| HIT: | HAND 12 | AIMED 11 | MENTAL 9 | | |
| DEFENSE: | HAND 11 | DODGE 13 | MENTAL 9 | | |
MUTATIONS:
ATTRACTION FIELD (2pt.)
MODIFIED BODY PART - SEE BELOW (1pt.)
DUALITY (1pt.)
LIGHT MANIPULATION (1pt)
TELEKINESIS (3pt.)
MODIFIED BODY PART IS A PREHENSILE TAIL. THE TAIL IS 4 FEET LONG AND ALSO HAS A STR OF 14.
BITE DOES 10 PTS., CLAWS DO 5 PTS. (3 PER HAND)
LASER PISTOL, SWORD

---
Back to top
GARRR - MUTATED KAMODO MONITOR

| | | | | | |
| --- | --- | --- | --- | --- | --- |
| STR: 19 | WILL: 11 | INT: 11 | DEX: 14 | CON: 13 | CHR: 10 |
| HP: 93 | HT: 9' | WT: 1000 lbs. | HAIR: NONE | EYES: GREEN | |
| AGE: 25 | HAND: LEFT | BASE SPEED: 4 | | | |
| HIT: | HAND 14 | AIMED 10 | MENTAL 8 | | |
| DEFENSE: | HAND 10 | DODGE 11 | MENTAL 8 | | |
MUTATIONS:
QUAKE GENERATION (2pt.)
INVISIBILITY (3pt.)
FORCE FIELD GENERATION (3pt.)
BITE DOES 15 PTS., CLAWS DO 10 PTS. (3 PER HAND)
SKILLS:
SURVIVAL (8), PERCEIVE (8), DEDUCTION (8), KNOW ITEM (8), KNOW DIALECT (8), ANIMAL HANDLING (8), KNOW DIRECTION (8)
PISTOL GRIP MK-VII
GREEDY, WILL ATTEMPT TO KILL ANY BIRD OR BIRD-LIKE CREATURE

---
Back to top
RAKEEN - MUTATED RED-TAILED HAWK

| | | | | | |
| --- | --- | --- | --- | --- | --- |
| STR: 19 | WILL: 11 | INT: 11 | DEX: 14 | CON: 13 | CHR: 10 |
| HP: | HT: 3 FT. | WT: 25 lbs. | FEATHERS: BROWN | EYES: GREEN | |
| AGE: 6 | HAND: N/A | BASE SPEED: 10 | | | |
| HIT: | HAND: 11 | AIMED: 12 | MENTAL: 13 | | |
| DEFENSE: | HAND: 12 | DODGE: 13 | MENTAL: 13 | | |
MUTATIONS:
4 WINGS (1pt.)
INCREASED SPEED x4 (1pt.)
REFLECTION (2pt.)
RADAR (2pt.)
INCREASED DEX (1pt.)
INCREASED CON (1pt.)
BITE DOES 10 PTS., CLAWS DO 5 PTS. (2 PER FOOT)

---
Back to top
CAPTAIN AMERICA
ENHANCED RESPIRATION (1pt.)
INCREASED DEX x2 (2pt.)
INCREASED CON (1pt.)
INCREASED STR +2 (2pt.)
MILITARY GENIUS (1pt.)
CHARACTER HAS 1 MUTATION POINT LEFT TO SPEND.

---
Back to top
BIG BRAIN
HEIGHTENED INTELLIGENCE (1pt.)
LOW NEURAL RESISTANCE (1pt.)
MECHANICAL GENIUS (1pt.)
PSYCHOMETRY (2pt.)
HEIGHTENED BRAIN TALENT (2pt.)
CHARACTER HAS 1 MUTATION POINT LEFT TO SPEND.

---
Back to top
STEALTH
MENTAL INVISIBILITY (2pt.)
CHAMELEON POWERS (2pt.)
SHAPECHANGE (2pt.)
LIGHT MANIPULATION (1pt.)
CHARACTER HAS 1 MUTATION POINT LEFT TO SPEND.

---
Back to top
JUGGERNAUT
PHYSICAL REFLECTION - KINETIC (2pt.)
MASS INCREASE (2pt.)
INCREASED STR x3 (3pt.) CHARACTER HAS 1 MUTATION POINT LEFT TO SPEND.
Back to top

---
SNAKE
ELASTICITY (1pt.)
POISON GLANDS (1pt.)
BEGUILING (1pt.)
PERSUASION (1pt.)
WALL CLIMBING (1pt.)
INFRA VISION (1pt.)
INCREASED SMELL (1pt.)
CHARACTER HAS 1 MUTATION POINT LEFT TO SPEND.

---
Email me
here